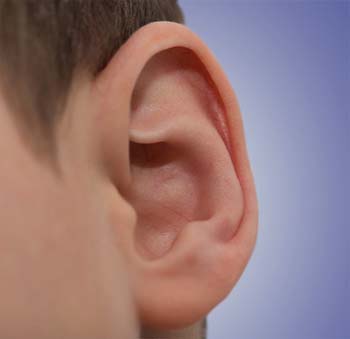 Deafness (Hearing Loss) is inability to understand speech through hearing even when sound is amplified, which can be unilateral or bilateral.
About 3 in 1,000 babies are born with hearing loss, making it the most common birth defect. It can also develop later in life due to injury or illness and genetic defects.
CLASSIFICATION OF HEARING LOSS: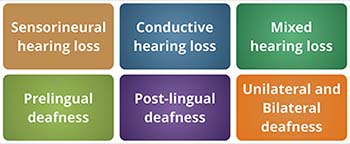 CONDUCTIVE HEARING LOSS
When there is a problem with part of the outer or middle ear. There is mild hearing loss and it is usually temporary because in most cases medical treatment can help.
It can be due to:
A build-up of wax that can block the ear canal, leading to short-term conductive deafness.
Foreign object in ear
Excess mucus as a result of common cold, hay fever or other allergies that may block the Eustachian tubes.
Ear infections causing Fluid and pus retention.
SENSORINEURAL HEARING LOSS
It is caused by dysfunction of inner ear, cochlea, auditory nerve, or brain damage. This kind of hearing loss is due to damage of the hair cells in cochlea.
The damage can occur due to:
Exposure to loud noises, especially high frequency sounds
Age-related hearing loss (presbycusis)
Meniere's disease
Idiopathic (unknown cause)
Sensorineural total Deafness (Hearing Loss) may be due to birth defects, inner ear infections, or head trauma.
MIXED HEARING LOSS
It is a combination of conductive and sensorineural hearing loss. Long-term ear infections can damage the ear drum and ossicles leading to mixed type of deafness.
PRELINGUAL DEAFNESS (HEARING LOSS)
It is the inability to hear properly or at all before the patient learns how to speak or understand speech.
It effectually means that the individual was born with deafness or lost their hearing very early in life.
POST-LINGUAL DEAFNESS (HEARING LOSS)
Most people with some kind of hearing loss have post-lingual deafness.
The person knows how to speak before their hearing was diminished gradually due to a medication side-effect, trauma, infection, or disease.
UNILATERAL AND BILATERAL DEAFNESS (HEARING LOSS)
Unilateral is single-sided hearing loss referring to affection of one ear, while Bilateral hearing loss means hearing impairment in both ears.