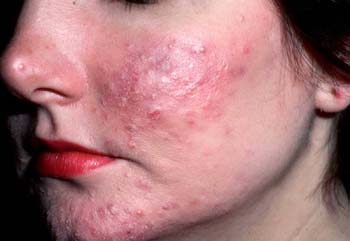 Rosacea is a chronic condition characterized by facial redness and at times, pimples.
Acne Rosacea is a skin disorder limited to the nose, cheeks, chin, and forehead, typically beginning during adulthood. The facial skin becomes oily, reddened and bumpy. Small red blood vessels are visible. In extreme cases, the nose may appear very red and swollen.
It is more common in females than males in the age group of 30 - 60 years, but is less severe in females.
Homeopathy takes care of all these symptoms naturally and sets the clock for the healing process from within.
All homeopathic medicines have been proved on healthy human beings, and their beneficial effects have stood the test of time. Moreover, none of the medicines cause any unwanted side effects.
Quick Look
Permanent redness of the face either in patches or entirely
A tendency to flush or blush easily
A burning or stinging, itching sensation of the face
Thickening of the nose may be present
Increased number of blood vessels seen on surface (telangiectasia) of the face
Pimple-like skin eruptions
Inflammation of eyes with gritty sensation