WHAT IS NEPHROTIC SYNDROME?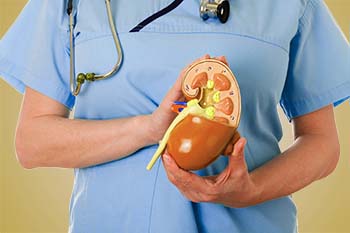 Nephrotic Syndrome is a disorder resulting from damaged microscopic structure of the major organs of excretory system - the kidneys- due to varied causes. The kidney's major function of filtering blood is altered as it excretes excess of blood and proteins in the urine. This results in:
Decreased levels of proteins like albumin in the blood- Hypoalbuminemia
Swelling over the dependent part of the body-Edema
High blood pressure and increased levels of lipid in the blood- Hyperlipidemia
Nephrotic Syndrome affects all age groups, both males and females, and allraces. In children, boys are more affected than girls and the average age is 2-3 years in children.
Nephrotic Syndrome due to varied causes occurs in all kinds of populations with statistics of 2 in every 1000. Click to read Causes of Nephrotic Syndrome.
WHAT HAPPENS IN NEPHROTIC SYNDROME?
Quick Look
Proteinuria or excess of protein in urine
Hematuria or passage of blood in urine
Edema over dependent parts of the body leading to weight gain
Decreased protein levels in blood, especially albumin
Hyperlipidemia or increased lipid blood levels and high blood pressure
Click to know more about Symptoms of Nephrotic Syndrome
WHAT CAN NEPHROTIC SYNDROME LEAD TO?
Complications of Nephrotic Syndrome are as follows:
Thromboembolism: Tendency to form blood clots easily, especially in the renal veins.
Increased susceptibility to infections: This is due to loss of immunoglobulins, which are nothing but a type of protein lost in urine in increased numbers.
Acute or chronic failure of kidney: As kidneys lose their function, they fail eventually.
HOW WELL HOMEOPATHY WORKS IN NEPHROTIC SYNDROME
Homeopathy is the most scientific and comprehensive means of Treatment for Nephrotic Syndrome.
Homeopathic Treatment for Nephrotic Syndrome offers a safer approach to heal the disease as compared to the conventional use of immunosuppressants and corticosteroids.
The kidneys regain their ability to filter blood in the most natural way.
Homeopathy is relatively more effective as it treats the root cause of Nephrotic Syndrome and prevents relapses.
Homeopathy is absolutely safe for all age groups and is absolutely free from side effects.
Few of our amazing remedies include:
Apis mellifica: Tendency to develop swelling and puffed up parts especially the eyelids. Person also faces difficulty in passing urine and also experiences lot of burning while passing urine.
Lycopodium: Indicated in kidney disease involving swelling of lower limbs with heaviness in the abdomen. Individual also gets frequent urging to pass milky urine, has difficulty in urination with slow stream and retention of urine.
Terebinthina: Violent burning pain in the kidneys with suppressed urine. Urine smells strongly of violets and has a muddy deposit. Much blood with very little urine.
Eel serum: It is one of the most renowned remedies for Nephrotic Syndrome, wherein the affected individual suffers from either absence of urine or very scanty urine, as well as albuminuria.