WHAT IS COMMON COLD?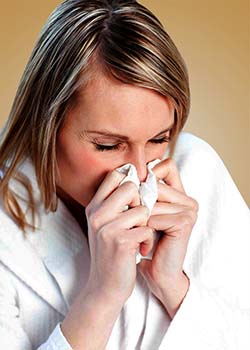 Common cold is a contagious illness that can be caused by a number of different types of viruses.
Preschool children are at greatest risk of frequent colds, but even healthy adults can have few episodes each year. The disease mostly affects individuals during autumn and winter months.
Click to read about Causes of Common Cold.
WHAT HAPPENS IN COMMON COLD?
QUICK LOOK
Runny nose and sneezing
Congested feeling in the nose
Sore throat
Cough
Click to know more about Symptoms of Common Cold
WHAT CAN COMMON COLD LEAD TO?
If not treated, common cold can complicate into:
Middle ear infections
Sinusitis
Pneumonia
Asthma
HOW WELL HOMEOPATHY WORKS IN COMMON COLD
Homeopathy has more than 150 preventive and curative medicines in Treatment for Common Cold that work very well for persons of all ages.
Every remedy is carefully prescribed on the basis of the patient's history and the correct medicine can even prevent spread of infections.
All remedies in Homeopathic Treatment for Common Cold have been proved clinically on thousands of patients globally in more than 100 countries.
Few of our amazing remedies include:
Allium Cepa: Indicated in copious, watery and extremely acrid discharge form nose with profuse bland lachrymation, worse in warm room and better in open air . Fluent coryza with sneezing, especially when entering a warm room.
Hepar Sulph: Suited to those people who are extremely sensitive to cold dry wind, with running thick, offensive discharges from the nose.
Pulsatilla: In cases of thick yellowish discharge from the nose with dry mouth, without thirst, and sensitive to cold air.
Aconitum Napellus: Indicated when coryza comes on after exposure to dry, cold winds. Violent sneezing is accompanied by pain in the abdomen.