A twenty year old unmarried female was suffering from tendency to gain weight for the last 1 year. There was swelling all over body with puffiness of face in the morning and swelling of both lower limbs when allowed to hang down.
She also had associated complaint of moderate to severe pain and stiffness in lumbo-sacral region for the last two years aggravated by prolonged standing, forward bending, walking and better by lying down and rest.
Pain and stiffness in right shoulder radiating to right upper limb with numbness in right hand.
She also had thin, watery, offensive per vaginal discharge staining the linen.
She had past history of surgery for left submandibular tubercular lymphadenitis at the age of 11 years followed by anti-tubercular treatment.
Thyroid function test reports showed (21/3/2011)
T3-30 ng/dl,
T4-0.90 μg/dl
TSH-150 μ/ml
She reported that she belongs to middle class family and was pursuing her career in arts. She was quite unhappy about her weight gain as all her friends in college would tease her baby elephant. She would feel bad about it and would always walk away from their company.
She being a single child was very attached o her parents. Since her childhood she was very stubborn and would always get all things whenever she would demand for it. On inquiry she narrated that she has a fear of reptiles and cockroaches.
Before Treatment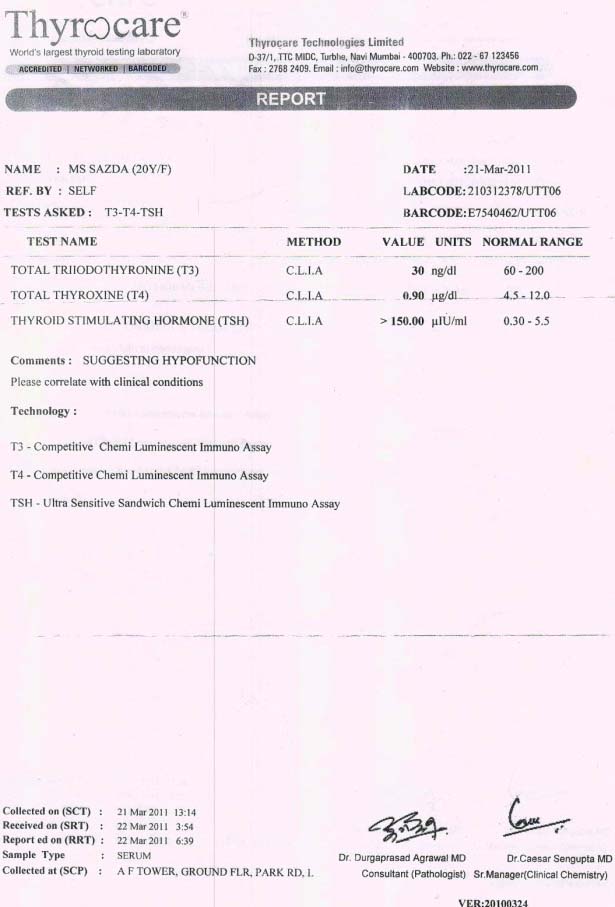 After studying the whole case Calcarea Carbonica 30 was prescribed on the basis of symptoms followed by Rhustox for 2 weeks.
After 2 weeks her swelling started reducing gradually. Pain in lumbosacral region and right shoulder region reduced. Per vaginal discharge also reduced 30 %. Same prescription was repeated for more 2 weeks.
Patient was feeling better except he had pain in right knee due to Injury and headache aggravated by heat. Calcarea carb 30 weekly was repeated followed by Rhustox 30 for another 2- 3months .
Patient clinically much better except per vaginal discharges.
Thyroid function test repeated on dated July 7, 2011 revealed T3-75 ng/dl, T4-7.60 μg/dl and TSH-10.36 μIU/ml.
Placebo was prescribed for 2 weeks.
During Treatment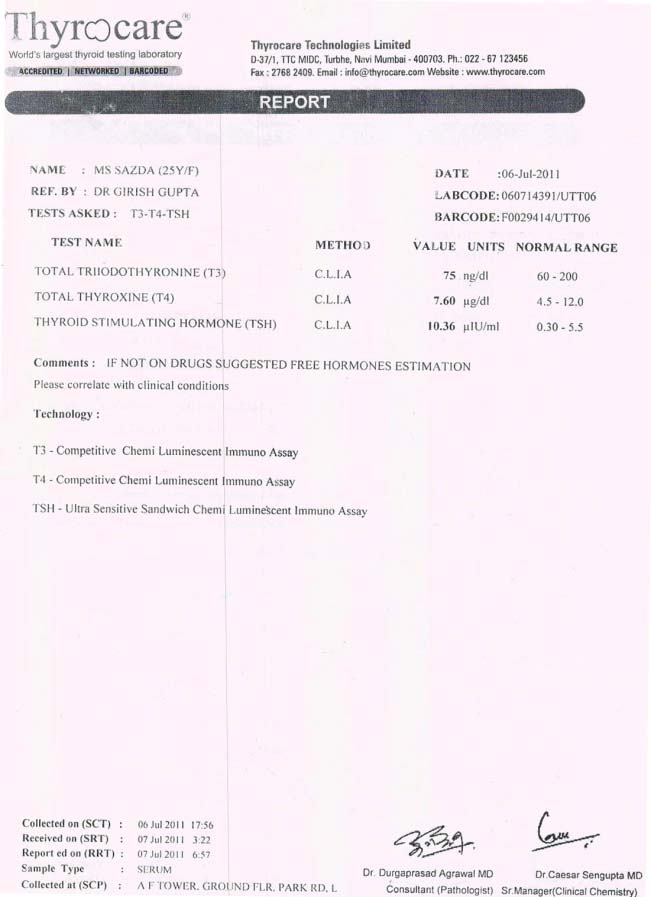 Patient clinically much better and after 15- 20 days her vaginal discharge increased. Calcarea Carb 200 was repeated fortnightly followed by Rhustox 30 BD alternately for 2 weeks.
Patient was advised to get thyroid function test repeated.
Thyroid function test repeated on dated December 5, 201I revealed T3-84 ng/dl, T4-7.60 μg/dl and TSH-5.44 μIU/ml(WNL).
She was asked to report whenever she had any complaint.
After Treatment