Quick Look
Menstrual disturbances like absence of periods, scanty periods, and irregular periods.
Difficulty in conceiving.
Unexplained weight gain.
Abnormal and excessive hair growth on face, chest, abdomen, back, etc.
Acne, oily face, dandruff.
Pain in the lowermost part of abdomen.
Anxiety or depression.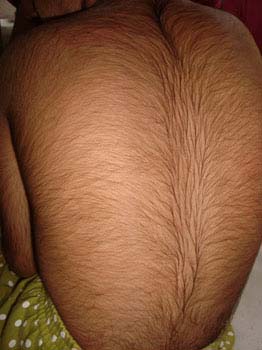 Being a disease involving an imbalance of hormones, the signature symptoms of PCOS seen are menstrual disturbances.
Menstrual disturbances include:
Delay in normal menstruation (periods)
Absence of periods or skipping of periods
Infrequent periods
Heavy bleeding during periods
Apart from irregularities in menses, other symptoms of PCOS include:
Raised blood pressure and cholesterol levels
Resistance of the body to make optimum use of insulin
Excessive weight gain
Abnormal growth of hair all over the body, especially the face and chin, called Hirsutism
Propensity to develop acne and dandruff. This is because excess circulating androgens cause the skin to become oily.