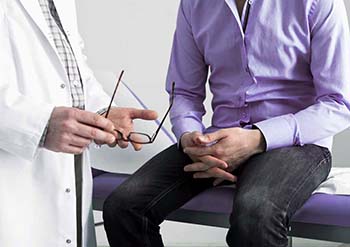 What is MALE INFERTILITY?
Male infertility is inability to get a fertile woman pregnant in spite of regular unprotected sexual intercourse for at least one year. Male infertility can be due to Azoospermia (no sperms in semen), oligospermia (less sperms in semen) and reduced sperm motility and altered morphology. Male infertility accounts for nearly half of the cases of infertility.
WHAT HAPPENS IN MALE INFERTILITY?
Inability to make fertile female partner pregnant even after one year of unprotected sexual intercourse.
WHAT CAN MALE INFERTILITY LEAD TO?
Stress and low self confidence
Marital discord and dissatisfaction
Depression
Expensive treatment for the underlying cause
HOW WELL HOMEOPATHY WORKS IN MALE INFERTILITY
MALE INFERTILITY can take away the joy and excitement of parenthood. It can be cause of immense psychological stress and emotional problems. Homeopathy can be your natural answer to the problem.
Homeopathy can provide resolution by-

Increasing sperm count and motility
Increasing sexual desire in cases of low libido
Treating sexual dysfunction which can cause male infertility

Homeopathy is natural, safe and without any side-effects.
Homeopathic Treatment For MALE INFERTILITY has minimum of 50 natural, side-effect free remedies in its treasury for the treatment of this condition.
Few of our amazing remedies include:
SELENIUM : Excellent remedy for male infertility with increased desire but decreased ability. Dribbling of semen during sleep.
ORCHITINUM : Great remedy for premature senile loss of sexual power. It is good in cases of sexual weakness and debility.
NUPHAR LUTEUM : Medicine for complete absence of sexual desire. Impotency with relaxed parts. There is involuntary emission during stool.