An 8year old boy weighing just 20 kilos with a height of 112cm was diagnosed with growth hormone deficiency. About 4 years back he had severe headaches with weak eyesight while his height and weight were on the lower side of normal. On investigations the diagnosis was confirmed, and the doctor suggested daily injections of growth hormone till the age of 15 years. His parents found this a costly affair to opt for, beside daily injections were denied by the boy. Then the boy coined the name of the homoeopathic physician who had treated him earlier for his complaints of recurrent respiratory ailments.
At present he has chronic leg pains over the shin of the leg.
He has inordinate craving for all kinds of fruits, he likes bitter things more than sweet chocolate.
His mother had taken few hormonal injections to help her conceive. During pregnancy and during delivery there were few unfavourable health conditions leading to a cesarean section. On his birth he had some dysmorphic facial features too, like a big nose, small eyes, and sunken cheeks and weighed 6 pounds.
This witty and smart Jain boy is an avid swimmer, he is good in studies and well versed with the gadgets and gizmos of today's world. Another strikingly interesting part was of his overt religiousness, wherein he followed all minute rituals of his religion which even his parents missed out sometimes; and he also wanted to take "diksha". He has a predilection for old songs and reality based movies. He is quiet adventurous and likes sport activities, which are on the hold now because of his chronic leg pains. He does things hurriedly, makes mistakes and is careless at times. He dislikes losing in a game. He is sympathetic boy.
This kid's case was studied extensively and he was prescribed Ficus religiosa 30 in May 2003. After about 3-4 months he showed significant improvement in his leg pains and his religious disposition was modified too, he was not inclined much now.
Before the treatment: (May 2002) X-ray of wrist joint showed 4 carpal bones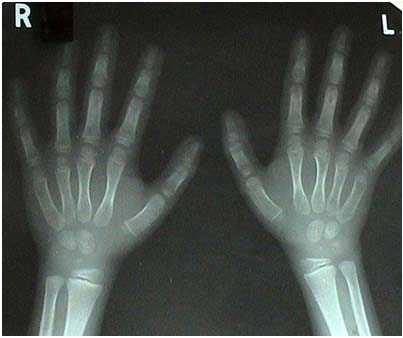 During the treatment:
September 2003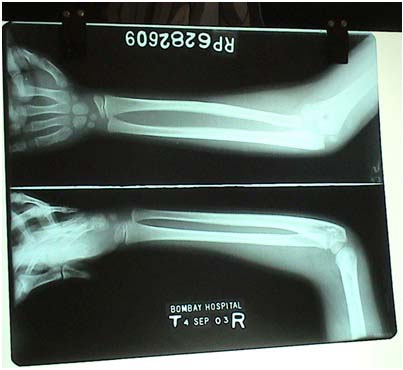 April 2004 -X-ray of the wrist joint showed 7 carpal bones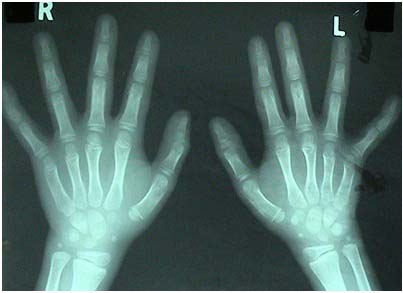 After the treatment:
August 2004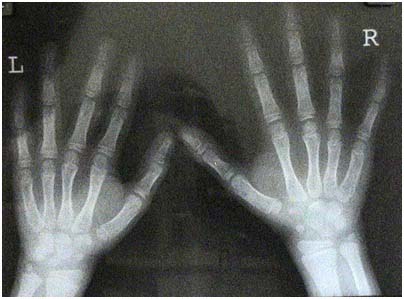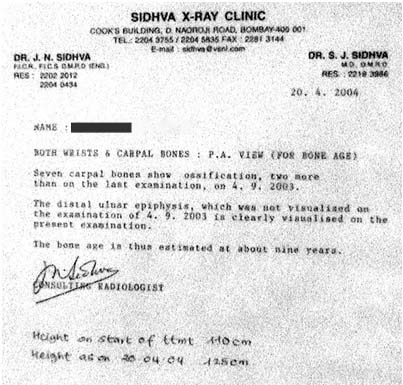 In April 2005 his height was 136cm.
He is no longer stunted now, and only with homoeopathic medicines this boy had reached the appropriate values of height for his age on the growth chart successfully.