A 25 years old girl, pursuing MBA consults a Homeopath for her skin ailments of Guttate Psoriasis diagnosed about 2 years back. Her skin complaints began when she was been treated with allopathic medicines for depression on being betrayed by her boyfriend. Dermatologist previously treated it as allergic rash but later on diagnosed it as Guttate Psoriasis.
She had a liking for salty foodstuffs, but in general she had decreased appetite.
This young girl was averse to talking to others and had a handful of friends. When asked about her state on being betrayed by her boyfriend, she said she was fine. But later on it was known that she used to weep in closed room.
On careful examination of case details, she was prescribed Natrum-mur 200. After about 8 weeks of treatment her Psoriasis was much better with a smile on her upright face; as she was completely free of Guttate Psoriasis in mere 4 months.
Evidence of before and after the treatment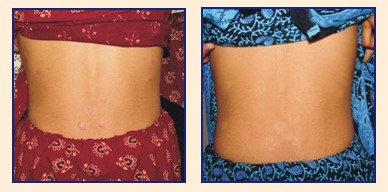 The depressive demeanor and the Guttate Psoriasis both been treated successfully with Homeopathy yielded a beautiful smile for this young lady.