A wealthy farmer was diagnosed with Plaque Psoriasis 25 years back. His lesions were extensive and all over the body with intense itching and dryness of skin with scaling of skin. In spite of being treated with best available treatments of various good doctors, his skin complaints didn't resolve. His relative benefitted from Homeopathy for similar complaints; on hearing this, he visits a Homeopath for his complaints of Plaque Psoriasis. He expected some relief for his extensive skin complaints if not complete cure.
This fat lazy man was constipated; he had excessive craving for non-vegetarian food and spices, while he felt nauseated on been compelled to eat sweets.
Analysis of his case description demanded the prescription of Graphitis 200 for him. He encountered 50% relief in his skin ailments on following up after a gap of 3 months, wherein in he had slight aggravation in the past 15 days. On completion of a year of treatment his Plaque Psoriasis had completely resolved.
| | |
| --- | --- |
| Before the treatment | After the treatment |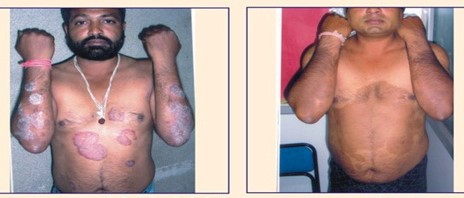 This case shows how a rich farmer with Plaque Psoriasis reaps nothing but clear skin with the alliance of Homeopathic treatment.