A 29 years old female who is a known case of Gall stones since 1-1/2 years presented with severe pain in right side of upper abdomen along with pain in right side of which also radiated to right shoulder. Her first experience of pain was in the period post delivery of a child, after eating fried food. She felt better on tightly pressing the abdomen and after vomiting or else after passing stool or flatus.
On examination she appeared little pale but didn't have jaundice at all. Her pulse was 88/mm while her blood pressure was 120/80mm of Hg. Ultra Sonography of whole abdomen done in January 2013 at the start of the treatment showed that the Gall bladder contains multiple calculi casting distal acoustic shadowing measures 1mm-4mm in size.
Her appetite was kind of good, with great liking for sweets.
As a person she would get angry very easily.
Throughout her Pregnancy she had excessive vomiting and could not digest anything as even water was vomited out. In the past she had history of jaundice, measles and recurrent tendency to catch cold and cough. In her family there is history of Gall stones, Hypertension and Diabetes Mellitus.
Her entire case history was taken in account, and she was prescribed Staphysagria. It was followed by increasing the potency till 0/6, with continued episodes of colic and no change in Ultra sonography of whole abdomen, instead after 3 months there were 20-22 gall stones found. It was then she was started on Cardus marianus, which was given to her for 6 months continuously. She felt better, colic appeared only occasionally with mild pain which goes away within 2-3 minutes and number and size of stone reduced which was confirmed by Ultra sonography of abdomen showing few small calculi 4 to 5 in number measuring 2-3mm in size. Patient is still under observation
BEFORE THE TREATMENT: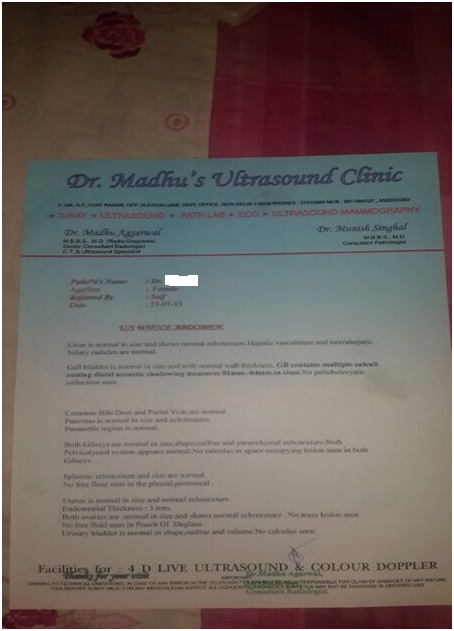 USG REPORT DATED 27-01-13
DURING THE TREATMENT: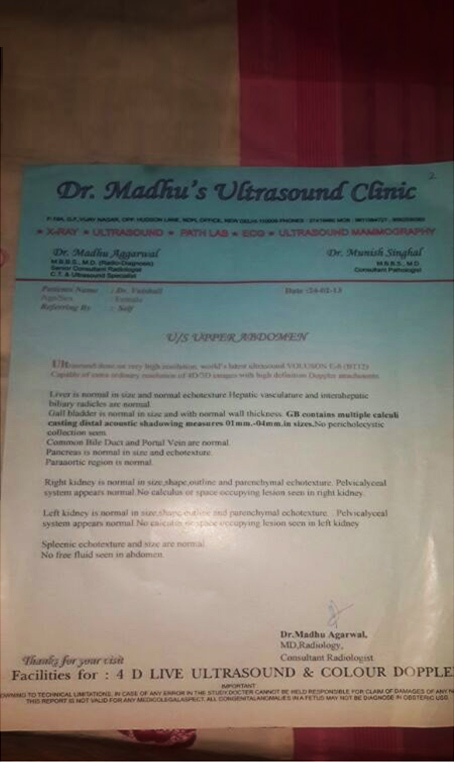 USG DATED 24-02-13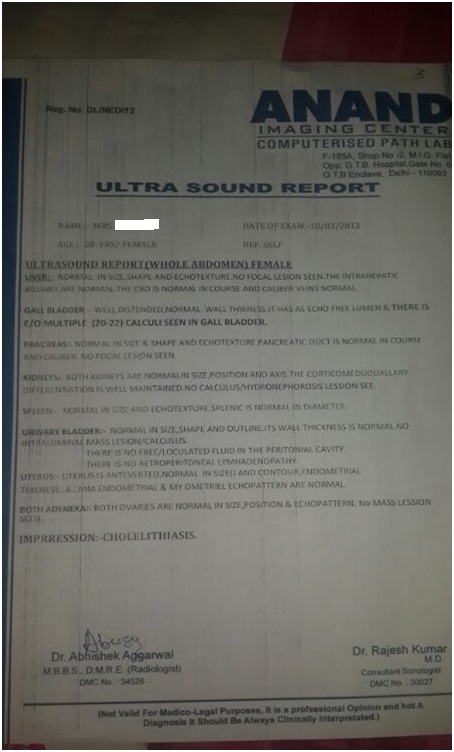 USG REPORT DATED 30-03-13 (20-22 CALCULI SEEN IN GALL BLADDER)
USG DATED 24-02-13
After the treatment: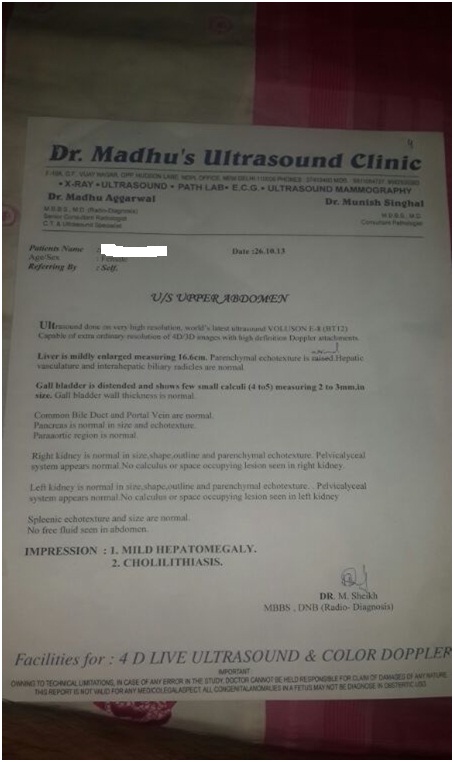 USG DATED 26-10-13 (NUMBER AND SIZE OF CALCULI REDUCED TO 4-5 MEASURING 2-3 mm)