What is OVARIAN CYST?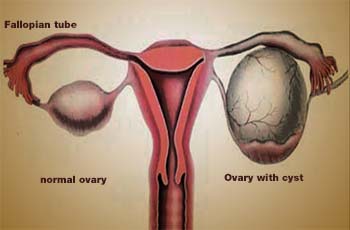 Ovarian Cysts are quite commonly seen in most of the females and are usually painless. Mostly they are asymptomatic. Occasionally, fluid may trap in a sac like cavity to form Cyst on one or both the ovaries and are called as Ovarian Cyst.
Functional Cysts are harmless and usually resolve within few months. Cysts could be accidentally diagnosed during routine check-up.
Most of the women are likely to get one ovarian cyst in their life. Mostly these cysts are harmless and do not cause any symptoms. But in rare cases they can cause symptoms and even affect fertility. Moreover, Cystic ovarian mass after menopause can be cancerous.
WHAT HAPPENS IN OVARIAN CYST?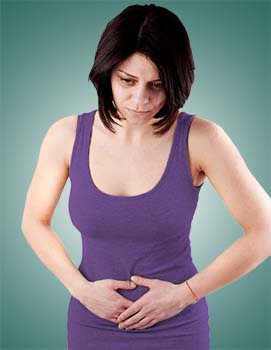 Pain in lower abdomen radiating to lower back and thighs.
Pain before menses.
If the cyst is large, there can be abdominal discomfort. .
It can also cause dyspareunia which is pain during sex.
Pain during bowels movements.
Urge to pass urine when the cyst presses the bladder.
WHAT CAN OVARIAN CYST LEAD TO?
Ovarian Cyst can lead to –
Infertility is common in most of the women suffering from large Ovarian Cyst. But functional cysts do not affect fertility or pregnancy. Infertility is associated with social stigma and embarrassment in many sections of society.
Infertility can lead to marital discord and depression in long run.
cysts of very large size also require surgery.
Hence Treatment For Ovarian Cyst is better if sought earlier. Know more about the condition.
HOW WELL HOMEOPATHY WORKS IN OVARIAN CYST
OVARIAN CYST especially large cysts can be severely debilitating and frustrating. Homeopathy holds answer to your troubles.
Homeopathy wins over conventional treatment forOvarian Cyst. Homeopathy has proved its timed tested usefulness. It not only helps cysts to resolve naturally but secures hormonal balance to prevent recurrence of cysts.
In Ovarian Cyst homeopathy acts by -
Focusing on the root causes
Correcting hormonal imbalance
Relieving inflammation & pain
Preventing recurrence
Soon after starting treatment and lifestyle modification you will notice positive changes. Homeopathic Treatment For OVARIAN CYST has more than 100 natural, side-effect free remedies in its treasury for the treatment of this condition.
Few of our amazing remedies include:
SEPIA: One of the leading remedies for Ovarian Cyst with irregular menses. Associated sharp clutching pains which move up from down to navel. For painful intercourse with bearing down sensation.
APIS MELLIFICA: Excellent remedy for Ovarian Cysts with burning & stinging pains. Associated painful periods with scanty discharge. Pain in ovaries increase with sexual intercourse.
LACHESIS: Remedy with brilliant healing capacities in cases of Ovarian Cyst especially, left sided. Left ovary is swollen, hard and painful with dark, scanty and acrid menses. Good for Ovarian tumors. Vomiting during menses with headache.
GRAPHITES: Excellent remedy for Ovarian Cyst with hardness (induration) in fair, fatty, chilly women who are prone to constipation. Associated skin affections with thickening and hardness of skin.