WHAT IS KELOID?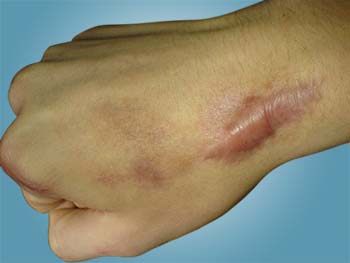 A KELOID is a scar which continues to grow uncontrollably, but is being neglected most of the times, till some symptoms manifest.
A Keloid is a scar, shiny, firm to hard, irregularly shaped and thickened skin growth. Keloid is caused due to an excessive response to trauma such as a cut to the skin.
Any scar caused due to burns, surgical wounds, ear and nasal pricks, tuberculous sinuses, healed skin diseases, vaccination marks and even insignificant pricks may become a Keloid.
Click to read about Causes of Keloid.
They are fairly common in young women. Keloids can typically occur on one of the common sites which include the arms, back, ears, lower legs, mid-chest, and neck. They may form as soon as the wound heals, or they may even take several months or even years to develop, which can continue to grow indefinitely.
WHAT HAPPENS IN KELOID?
Keloid has the following features:
Quick Look:
It is raised from the surface at some sites e.g. Ear lobules, it may be pendulous.
It is Lumpy (nodular) or ridged
Flesh-colored, shiny pink or red in the early stages, hyper-pigmented (darkened skin color) later
on.
Keloid enlarges beyond the original wound.
Its margins show "crab's claw" like projections into the adjacent skin.
Ulcers develop frequently on the surface and in the margins.
constant itching.
Some keloids become quite large and unsightly causing potential cosmetic problems.
Click to know more about Symptoms of Keloid.
WHAT CAN KELOID LEAD TO?
Keloid often leads to Cosmetic disfigurement .
But sometimes depending upon its size, place and extension/expansion, it can also cause symptoms like pain, burning sensation, itching, ulcer or restriction of movement
But most patients often consult doctors for cosmetic disfigurement only , as the cosmetic disfigurement often makes one depressed. Though it need not be feared for becoming cancerous tumors.
HOW WELL HOMEOPATHY WORKS IN KELOID
Homeopathy can treat Keloid well. No matter what the location or size of the keloid is Homeopathic Treatment for keloid helps to regress it and treats it from the roots.
In Homeopathy, we believe that any external manifestation of a disease is due to internal disturbances within the body.
So doing surgical procedures on Keloid doesn't solve the problem because it doesn't remove the body's tendency to scar and keloid formations. In fact, in most of the cases, these Keloids come back again.
Homeopathic treatment for Keloids is a natural way to help the body by supporting the body's own process of healing and expelling the disease by itself and strengthens the immune system.
Homeopathy helps to stop the irrational multiplication of the scar tissue. Homeopathic medicine not only relieves the pain/itching of the Keloid, but also treats the condition to reduce the extra growth in Treatment For keloids .
FEW OF OUR AMAZING HOMEOPATHIC REMEDIES INCLUDE:
Sulphur - Keloid begins with a small cut which gets sore at first, followed by burning and inflammation, with throbbing pain and intense itching.
Graphites - Excellent remedy for early stages of KELOID with rough, hard and unhealthy skin. The eruptions ooze out a sticky yellow glue like exudation.
Silicea - Wonderful for Keloids due to ill-effects of vaccination and which are extremely painful, itchy and worse during daytime.