This is the case of a 16 year-old student suffering from the fungal infection, Tinea corporis since 3 months.
He was suffering from such patches on his abdomen since the past 6 months. He had intolerable itching and burning along with the patches.
His complaints were worse at night, by warmth of bed and in sunlight.
He was a student preparing for a pre-medical entrance examination. Although he did not want to become a doctor, his parents were pressurizing him for the same.
He was extremely stressed due to this and was certain that he wouldn't clear the examination successfully.
He thought his skin disease would not be relieved by any treatment. He became very hopeless and restless due to itching.
On the basis of his symptoms, the constitutional homeopathic remedy Psorinum was given.
He steadily began improving and skin complaints started reducing with complete recovery within just 3 months of treatment.
Before Treatment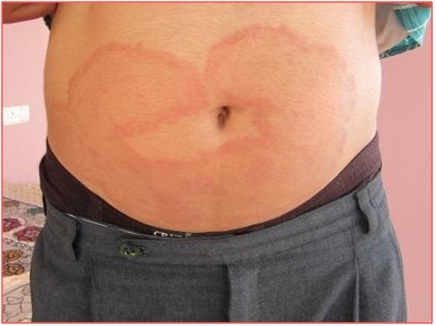 After Treatment