The mother of a school going boy consulted us saying that her son complained of pain in the head with vertigo and falling unconscious. He had weakness after recovering from unconsciousness.
He had recurrent cough and cold, pneumonia and was hospitalization 3-4 times a year.
He had no desire to eat. He was irritable, restless, and listless. He complained of pain in the whole body. His memory had also gone down.
He had convulsions sometimes. All complaints increased in frequency over time. Growth was hampered, overall development was slow.
He was the first child in the family. He was delivered prematurely in the 8th month, had to be kept in the incubator. His mother had a lot of stress during pregnancy, fulfilling the needs of the husband who was dominating and demanded everything to be done according to him.
The boy was reserved, did not want to mix with friends. Happy when his father was out for work. Father wanted his child to be good at everything and constantly told him to do this and that. He was enrolled for many classes without giving him free time. During exams, father put too much pressure on him to perform.
He enjoyed to draw and paint, catch butterflies, but was scolded by his father for wasting his time in futile activities.
He finds it very hard to remember. He had ailments from dominance of his father. He felt unfortunate.
He underwent CT Scan of the Brain in Nagpur which showed small infarct demyelination involving both corona radiata.
Before treatment: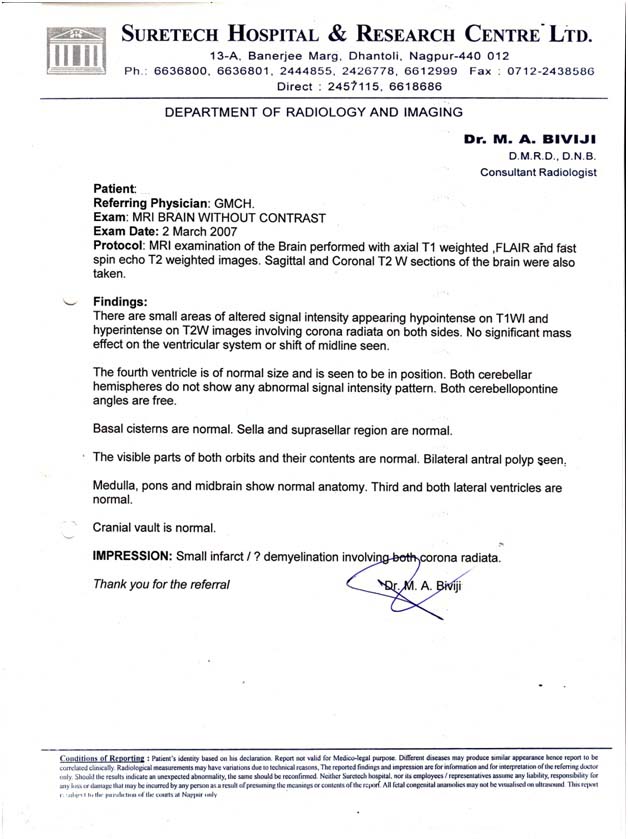 He underwent a second CT scan at Jaslok hospaital, Mumbai. His reports indicated that Posterior parietal periventricular white matter hyperintense represent areas of gliosis, exact etiology undetermined. Such changes can occur secondary to hypoxic ischemic insult.
He was on allopathic treatment for 3-4 years, and was consulting several specialists neuro-physicians, pediatricians, surgeons from Nagpur and Mumbai.
Before treatment: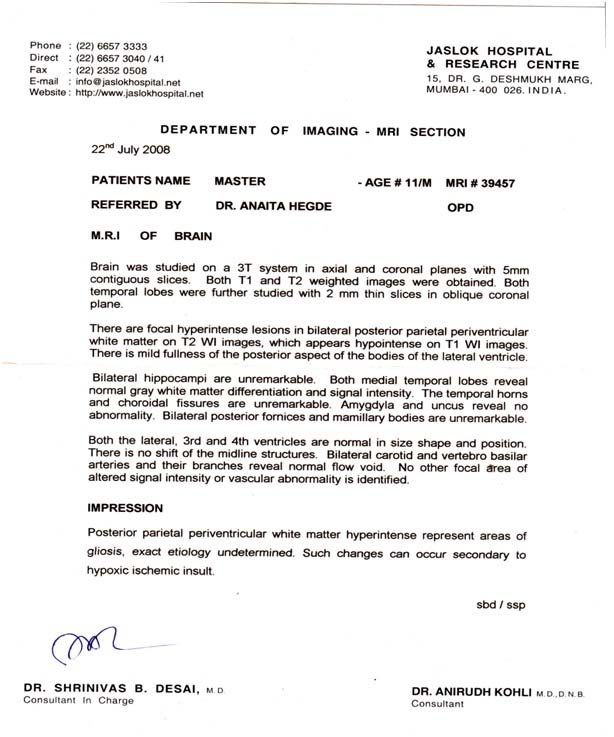 He was given Carcinosin based on his symptoms.
Within 3 days there were no episode of vertigo, blackouts or convulsions. He felt much better, appetite increased, started taking interest in studies.
1 month later he started scoring well in school. The irritability and dullness gave way to cheerful disposition. Fear of father reduced and he started talking freely with his friends too.
After 6 months, he started his skating class and came among the first three in competitions at the district and state levels.
After 1 year, he did a record breaking event of skating from Kanyakumari to Nagpur, making himself, his parents and his coach proud.
His reports of 2011 showed no abnormality in the brain.
After treatment: