Welcome Cure received a letter of appreciation for conducting a Seminar on "Health and Homeopathy" along with Body Composition Monitoring, at Excel Crop Care for the employees. The session was conducted by Senior Doctor, Founder MD of Welcome Cure Pvt. Ltd. , Dr. Jawahar Shah.
Vice President, HR, Mr. Sunil Jagtap congratulated Dr. Shah and the Welcome Cure team for giving an interesting and informative seminar on Benefits of homeopathy.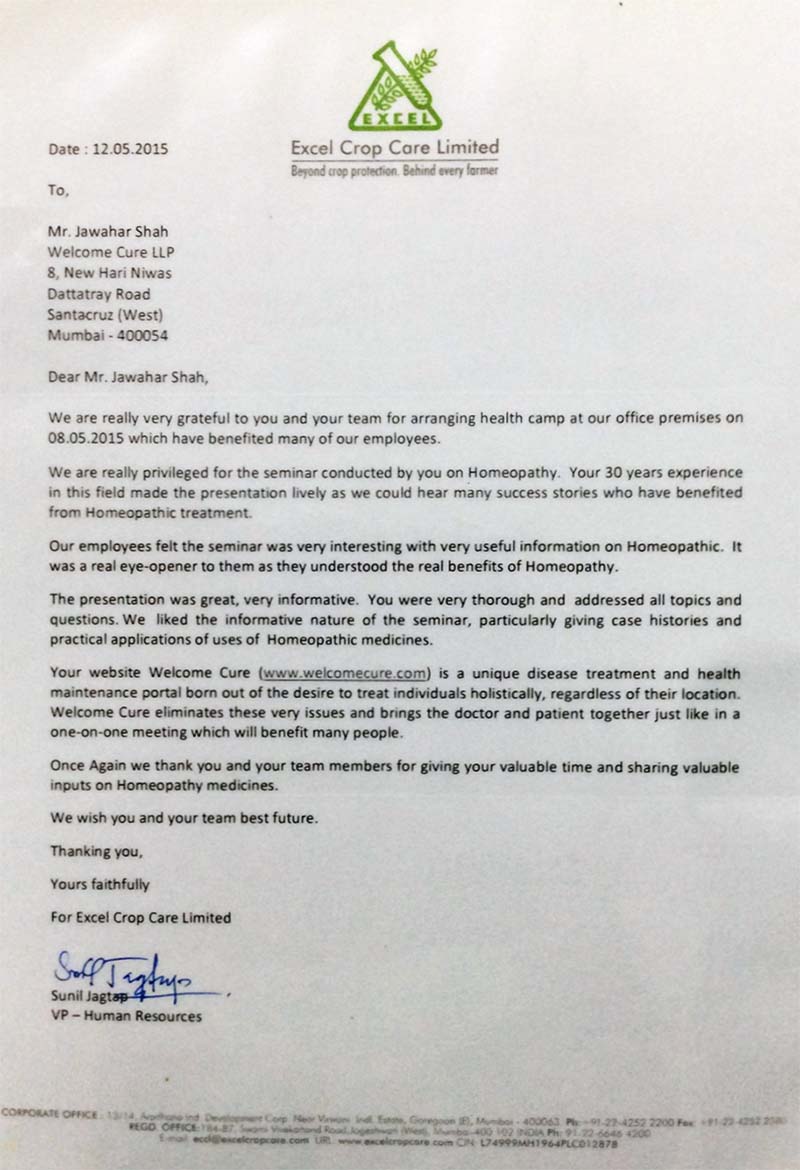 Excel Crop Care Ltd's Employees Testimonials
Jyotsna Kapadia General Manager (IP), Excel Crop Care Limited
We had a wonderful seminar by Dr. Jawahar Shah on Homeopathy. It was extremely informative. I had no idea before as to how the medicines worked but through the seminar, I learnt the mechanism of working of homeopathic medicines and how it differs from allopathic medicines. I believe Homeopathy is really worth trying.
Rutuja Paranjape Manager (HR), Excel Crop Care Limited
I wasn't aware about how fast Homeopathic medicines can act because people generally feel that the medicines are slow in showing their effects. After the seminar by Dr. Jawahar Shah, I am convinced about the efficacy of the medicines and I will go for Homeopathy over Allopathy.
Sudha Tendulkar Excel Crop Care Limited
I have been taking homeopathic medicines since 20 years right since the beginning of pregnancy, and I give only homeopathic medicines to my child because I have seen that Homeopathy raises immunity in children and protects them from falling ill often. And my faith only increased after attending Dr. Jawahar Shah's seminar. I urge everyone to experience the power of Homeopathy. Whatever I am today, it is because of Homeopathy!
Veena Murugkar HR Department, Excel Crop Care Limited
I am very impressed by Homeopathy and by Dr. Jawahar Shah's seminar and I will definitely get in touch with him for treatment.